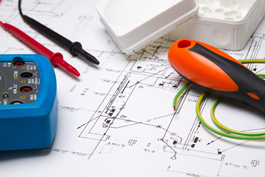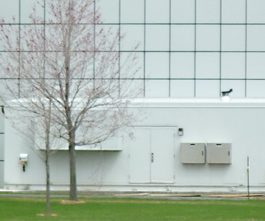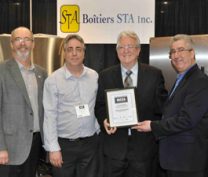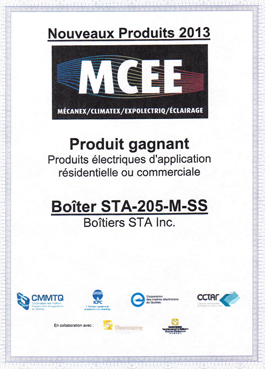 COMPANY HISTORY
Drawing on personal experience of more than 30 years in the field, electrical contractors Guy and Yves St-Amour developed an innovative product that became the spearhead for founding their company, STA Boxes Inc.
In 2011, Guy and Yves St-Amour received a special request from a customer who wanted to install a safe outlet for an 800 amps mobile  load bank . They went to work and produced what became the prototype for a line of custom-made boxes for quick, safe electrical connections. And so STA Boxes was born.
Since then, with representation from several engineering firms, our product has been specified for several municipal, governmental and private projects.
The STA Boxes team is available to meet all your needs for quick connection boxes, custom made, certified and guaranteed.

Winner of the new electrical product award at the MCEE 2013 trade show
The STA box with Cam-Lok® connectors was named the winning product for the following main features:
Makes connecting a mobile generator safer;
Labour savings using Cam-Lok connectors;
Innovation in the stainless steel EEMAC 3R form.